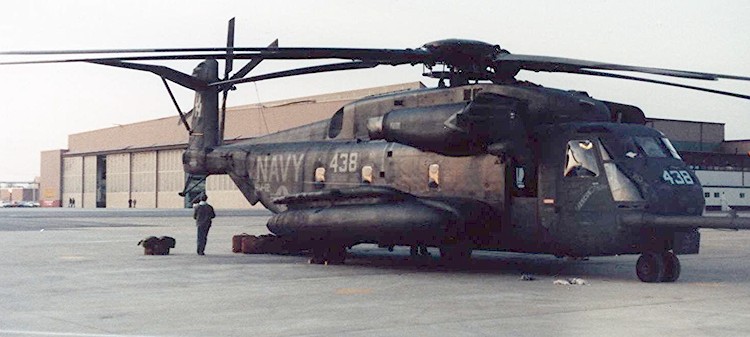 CH53-E Helicopter, HM-12 Norfolk Virginia
(HM-12 VOD Det) Haulin' Hawgs 1983-1987
Angels exist. The Navy makes them, and its factory is in Florida. Navy angels wear green flight suits and snug-fitting flight helmets that leave little room for halos or even fluffy white feathers. These guardian angels have faithfully stood watch over aviation crews, passengers, aircraft and cargo since the dawn of naval aviation.
Yet they go mostly unnoticed among the rest of the fleet, set apart from typical Sailors only by the gold wings pinned on their chests with the letters AC branded in the center. The letters stand for air crew, and earning one of the rare gold enlisted pins is one of the toughest qualifications in the fleet. (more)
In the spring of 1983, HM-12 took delivery of the Navy's first CH-53E "Super Stallion" aircraft, the largest and most powerful helicopter in the western world. The "Super Stallion" is used as a Vertical Onboard Delivery (VOD) aircraft, responsible for carrier battle group support around the globe.
From December 1983 to April 1987 the squadron served as home base for HM-12 Sea Detachment, an independent contingent of personnel tasked with providing logistics support to the fleet units along the east coast and throughout the Caribbean. Operating two CH-53E aircraft, the "Haulin Hawgs" served with distinction, receiving two Meritorious Unit Commendations within the brief span of three years. In the spring of 1987 the Sea Detachment personnel and aircraft merged with elements of neighboring units to establish
Helicopter Combat Support Squadron TWO (HC-2), a composite fleet support squadron.
May 28, 1987 marked yet another significant milestone in the squadron's history with the arrival of its first MH-53E "Sea Dragon" helicopter, a potent addition to the Navy's mine countermeasures arsenal. Technologically superior to its predecessor, the MH-53E represents a quantum leap forward for the AMCM community.
Many thanks to my fellow servicemen that have provided these videos...JB

CH53E Full Power Take Off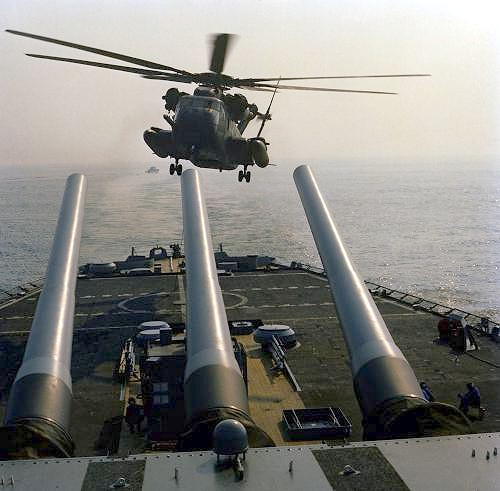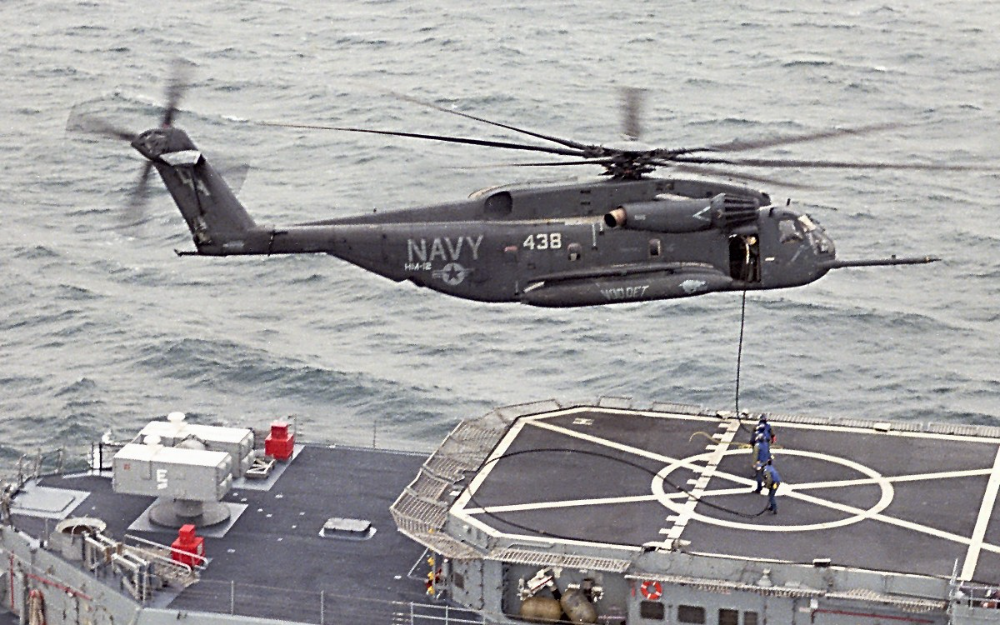 MH-53E Sea Dragon
HM-12, as a Fleet Replacement Squadron, trained and qualified 768 pilots, 1,200 aircrew and 11,900 maintenance personnel. In addition, they logged over 75,000 mishap-free flight hours, and completed over 23 years of mishap-free operations, giving HM-12 an unsurpassed safety record in the helicopter community.
HM-12 was officially decommissioned on 30 September 1994, but her personnel still serve the AMCM community as high ranking Naval officers, senior aircrew and maintenance personnel and logistics support contractors. There will never be another squadron like HUM DOZEN!
After being discharged from the Navy in 1989, I returned to my home state of California where I met a wonderful woman (Connie), that I married in 1992. We then moved to the High Desert of Southern California where we live today. Connie is a teacher. I have Microsoft certifications (MCSE, MCP) and A+ Comptia Computer certifications.
I really learned a lot about life, death, and the need for honesty and credibility while I was in the Navy, and these skills have made me a better person, as well as giving me the abilities to develop personal relationships with my marketing teams that I have today.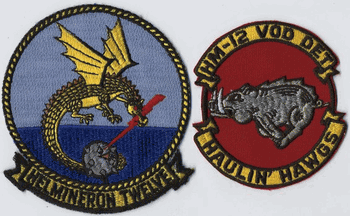 Jerry Brooks, USN
H-1, H2, & CH-53E Helicopter Crew Chief Retired.

Duty Stations:
NAS Pensacola FL.
HT-18 NAS Whiting Field, Milton FL.
HM-12 Norfolk VA.
HC-1 North Island,
San Diego, CA.
Graduated Naval Aircrew Candidate School 1980
Pensacola, FL.
NAC Wings Awarded 1981
S.E.E.R School Nov. 1985
Brunswick, Maine
1000 Hr. Pin - Huey
1000 Hr. Pin - Bell Rangers
1000 Hr. Pin - CH53E
Bluenose Award
Arctic Circle 1986
USS Inchon, USS Kennedy
Microsoft Certifications:
MCSE, MCP, Comptia A+

Jerry Brooks
Powered by: HighDesertHosting.Com